Dungeon Deathball
New Score & Ranking System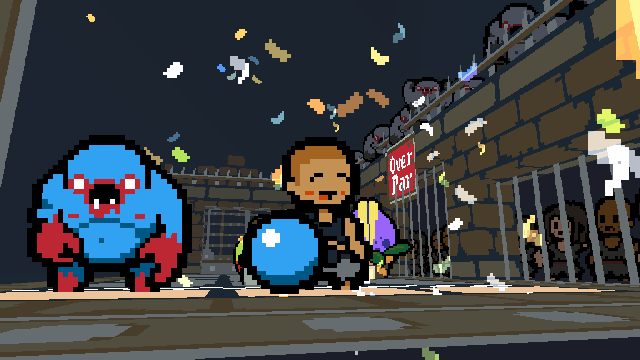 This update features an all-new scoring system. When you complete a stage you will now receive:
Score
Rank
Gold
These are all based on your performance, which is measured by the same 3 metrics as before (reach the goal, score a touchdown and finish within par).
You'll also get some score bonuses for additional actions, such as finishing even more quickly or collecting...
Gems

You find these dotted across every stage. Collect them for score bonuses.
Final Results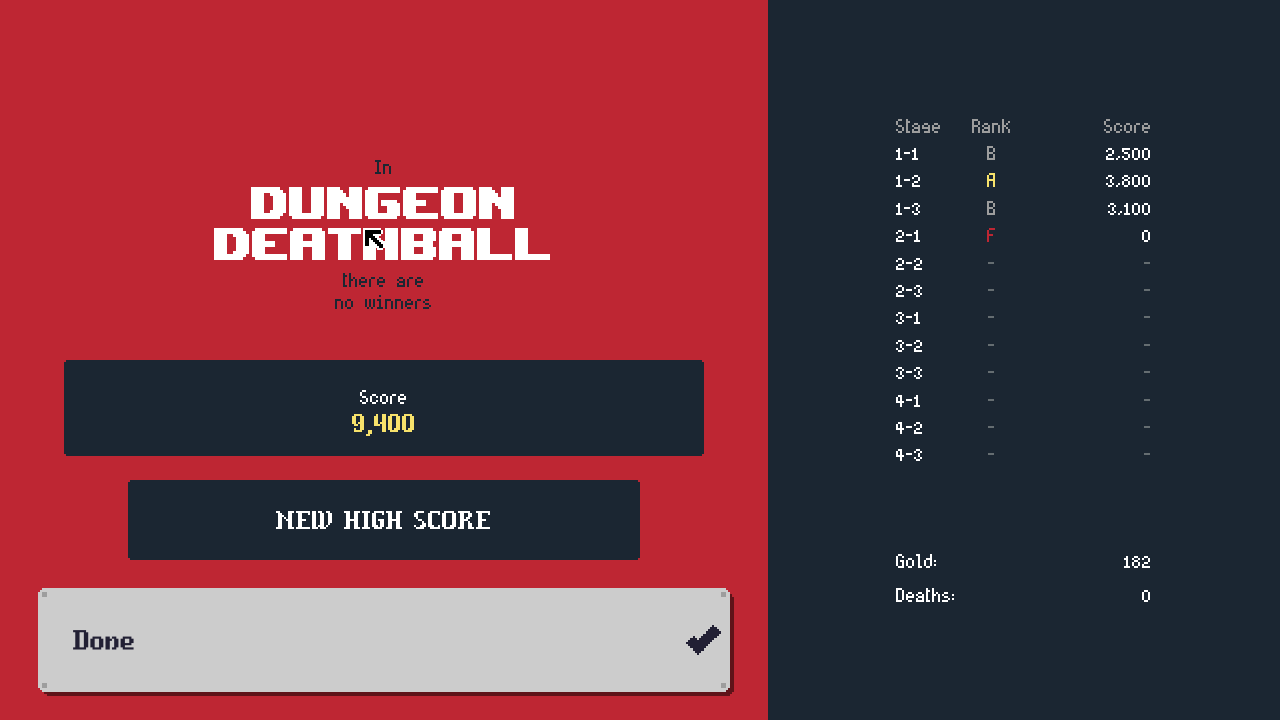 The ending screen now shows a full breakdown of your scores and ranks, stage-by-stage. Be sure to share screenshots of your best runs in the Steam Community. 😉
New Leaderboard (on Steam)
This update involved some big changes to the way scoring works, and it's now harder to get the kinds of scores players were achieving in older versions of the game.
Therefore, I decided to create a new leaderboard for all scores going forward.
However, I didn't want to simply wipe all the old scores (you worked hard for them!) so I've preserved them in the Steam Leaderboards. You can find them here.

Well done, WanderingHero, you'll have your high score forever preserved in the archive!
Everyone else: now's your chance to claim that new number 1 spot!

Here's the full list of changes in update 0.19...
🆕 Changes
3-Star rating system replaced with numeric Score system.
Created new Steam leaderboard to account for drastically different final scores (the old one is still visible in the Steam Community).
Added Gold system - earn gold based on your performance. Use it to recruit new players. (More things to buy with gold coming soon!)
Added Rank system - you'll get a rank (S/A/B/C/F) based on your performance, for bragging rights.
Added Gems to each stage. Collect them for score bonuses.
Stage Results screen now shows a breakdown of your score, gold and rank.
Ending screen now shows a breakdown of your score and rank on each stage.
Your lifetime High Score is now recorded.
You no longer have points deducted for deaths or taking too long on a stage.
Perk upgrades and player recruitment uses temporary new prices so they work with the new systems. These will be replaced with another new upgrade system soon.
The finish line now has a checkerboard pattern.
🐛 Bug Fixes
Fixed issue where the Ball would move from the wrong position if you used Shoot after moving in the same turn.

Enjoy!
Matt
Files
DungeonDeathball_v0-19-0_Windows64_Standalone.zip
64 MB
11 days ago