Dungeon Deathball
Back again with another update. 👋
Undo
The biggest new change is the Undo button, which you'll find next to Shoot.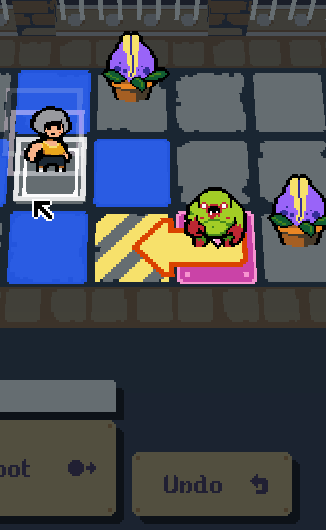 This lets you revert simple non-combat actions (e.g. Move, Rest, Pass). Once you commit to attacking enemies or shooting the ball, the undo button is greyed out.
If you find yourself frequently clicking the wrong tile, or finding unexpected outcomes once you move your players, I hope this new button alleviates some of your frustration.
Player Feedback
I've also addressed a number of player feedback points in this update. If you have feedback to submit, you can find the form here:
https://forms.gle/y4XpagHp1mdRvUdB9
Thank you to everyone who has submitted feedback so far. Even if I can't react to it immediately, I do read it all.
Full Changelist
🆕 Added
Undo button (reverts non-combat actions).
Added How To Play info about how Gold is determined.
Added How To Play info explaining what Pierce, Charge, Spawn, Catcher and Push Resist do.
Added How To Play info about Ball Modifiers.
Added How To Play info about Enemy Intention Markers.
Added "Push Resist" icon when hovering cursor over an enemy that can't be pushed.
Current Ball Modifier's name is displayed above the Pass/Shoot buttons.
In addition to the point above, you can now view information about the current Ball Modifier when you hover your cursor over the Ball Modifier name.
Middle-clicking the mouse now switches control to the other player.
🔁 Changed
Improved several menu screen layouts for 16:10 aspect ratio displays (hello Steam Deck).
How To Play screen can now be accessed from the Team Info screen before starting a stage.
Enemy's attack range is no longer displayed when it's not applicable.
Split How To Play buttons into 2 columns.
🐛 Fixed
Enemy intention markers are now refreshed at the end of the player turn, just before the first enemy performs its action.
Right-click and middle-click no longer executes commands.
'Switch Player' shortcut icon no longer disappears after you move your mouse over it then away again.
Stamina warning for slot 1 player no longer displays behind slot 2 player's panel.
An auto-save is no longer performed when first loading the title screen.
Enjoy!
Files
DungeonDeathball_v0-36-0_Windows64_Standalone.zip
81 MB
54 days ago