Dungeon Deathball
This week's update brings several significant changes to the formula.
First off, the "permadeath" I've been touting in the game description has finally become fully realised, as I intended it to be. Now, if your players bite the dust, they won't be automatically replaced in the next stage. You will have an opportunity to recruit a replacement, but it will cost you Stars.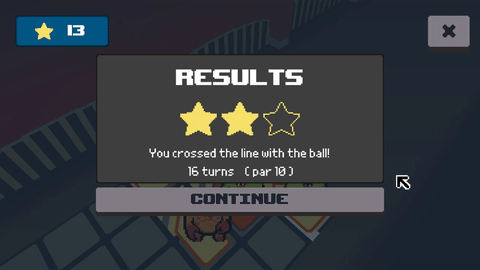 Speaking of which, the number of Stars you earn over the course of a game will now be tracked and displayed at the end of each stage. And there are new requirements for earning them in the form of a 'Turn Par' for each stage.
You'll now be balancing this need for speed against a change to how the 'REST' action works; it now ends your turn whenever you use it, even if you have AP remaining. So you'll need to think ahead and find safe opportunities to restore your Stamina.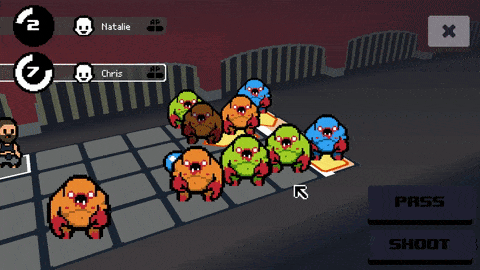 And finally, in other news, I have created a Discord to chat about not only Dungeon Deathball, but all of the games I've made or am making! If you're not familiar, Discord is a free chat client you can download or use in your web browser.

Come and join the discussion!
Here's the full change log:

Permadeath:

Characters who die are no longer automatically replaced.
At the end of each stage, if you are down a player, you have an opportunity to buy a new one using Stars.

The number of Stars you earn is remembered and displayed at the end of each stage.
Mad Lads have more health and do more damage, so tricking them into fighting each other is more important now.

Aggressive (orange) Mad Lads have even more health too.

The scoring system has changed:

There is now a "Turn Par" for every stage.
Winning a stage within the par gives you a star.
The old award for getting the ball over the line WITHOUT it in your hand has been removed.

Using "Rest" ends your turn (so think ahead!!).
The AP cost of an action flashes in the UI when you mouse over a tile or button.
Mad Lads have a new attack animation.
Mouse cursor improvements:

Added a custom cursor.
The cursor changes when you hover the mouse over an interactive tile to show what it does.

Fixed a bug where player names could come up multiple times in a single run.
I'm excited to know what you think of these changes! So please leave a comment below, or you can prod me on Twitter or join the new Discord.

Files
DungeonDeathball_Win_0-5.zip
41 MB
May 23, 2018