Surprise surprise, there were a few things I didn't get time to add to Singled Out during the GMTK jam.
Well, I'm working on a small update to address that. I'd like to do an even bigger, proper full version of the game someday, but I have other projects I need to finish first.
Downloads
Uploading new files to this page is not allowed until the jam is over, but you can grab a preview build of version 1.1 from the Dropbox links below. I'll update the main page when I'm able to.
Windows standalone (64-bit)
Android (standalone APK, requires you allow apps from unknown sources in device settings)
WebGL
The download links are now all available on the main game page.
What's new:
If you shoot the wrong person the game now displays their face, so you can reflect on your crimes against humanity and other species.
Under-the-hood improvements to the face generation system... Faces are now baked down into 1 sprite, so they look less jittery when they move. They used to be 6 sprites all on top of each other. Which is bad.
Maximum crowd size increased to 18 (used to be 10... I think I left it at some arbitrary number and forgot to change it).
Your high score is saved across sessions.
Added Android support and standalone Windows build.
Bug fix: the title screen no longer plays the gameplay music the first time you start the game.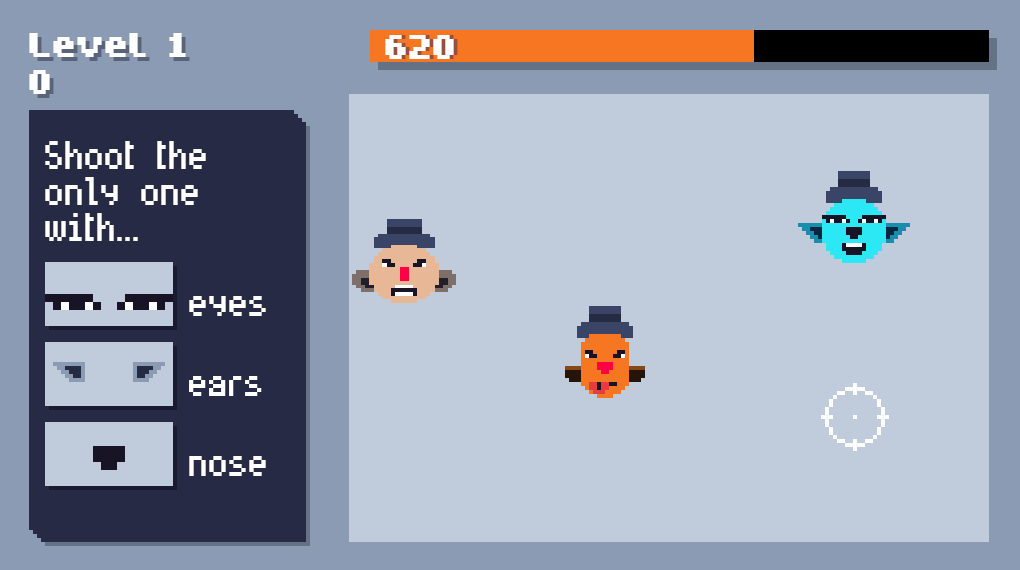 Thanks for checking out my little game!
Please remember to:
Enjoy!
Matt
Get Singled Out (GMTK Jam 2019)